December Flamenco in Atlanta
Two shows + classes
PERFORMANCE: RED LIGHT CAFÉ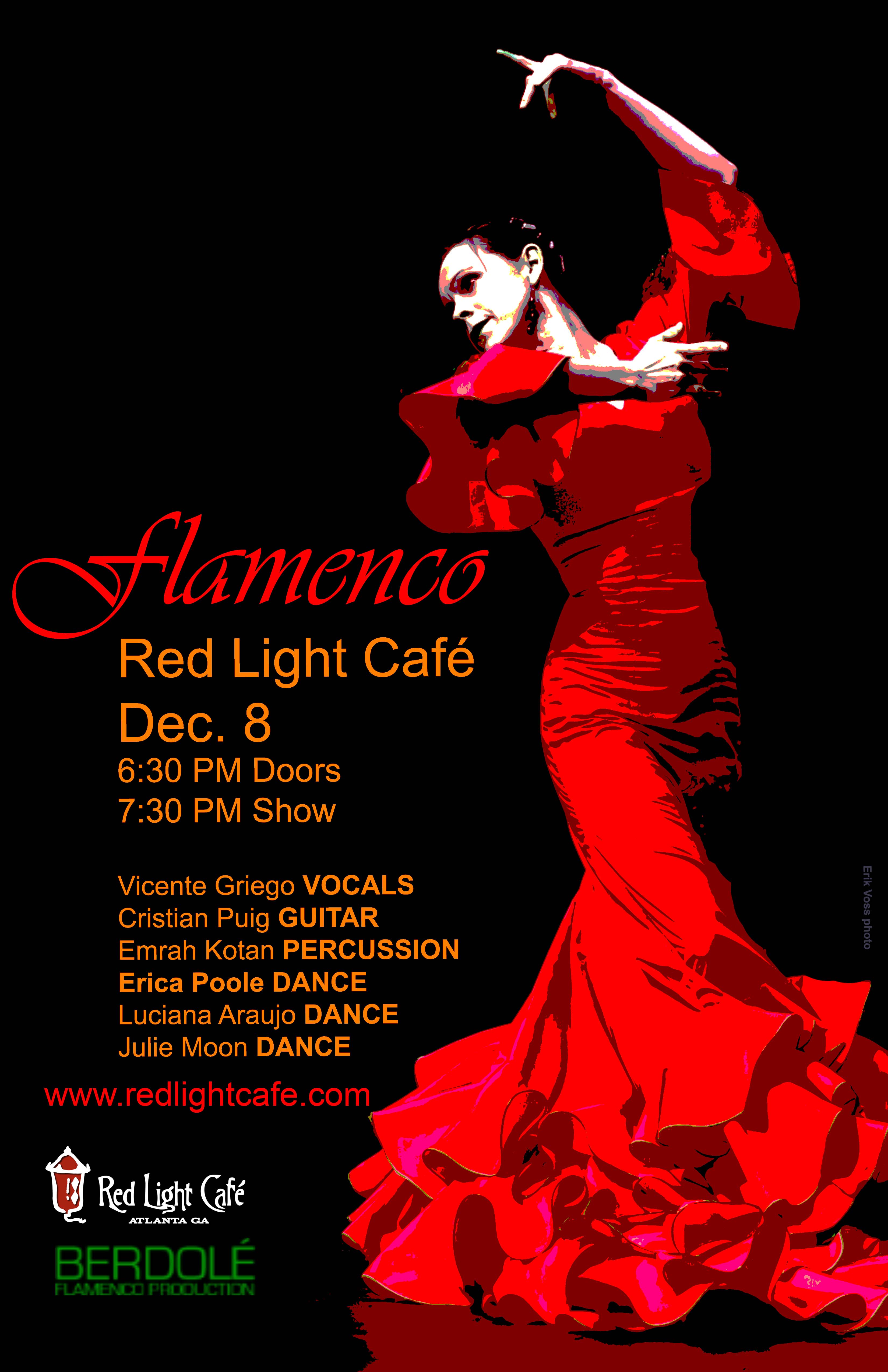 The Flamenco tablao returns to Red Light Café. In the spirit of back rooms and taverns of southern Spain, this showcase of Flamenco is raw, unrehearsed, and fully improvised to create an electricity that audiences say sends chills through the air and brings tears to the eyes. It´s a night of live guitar, singing, and percussive dance featuring the elite Flamenco artists of Atlanta and the U.S.A.
Thursday, Dec. 8
7:30 PM show time
6:30 PM doors
Featuring:
Cristian Puig — guitar and vocals
Vicente Griego — vocals
Emrah Kotan — percussion
Erica Poole — dance
Luciana Araujo — dance
Julie Moon — dance
$12 Adv – $15 Door
PERFORMANCE: THE VELVET NOTE
Spanish Gypsy meets traditions of the Americas in this fusion of Flamenco and jazz, blues, and bossa nova. Talented musicians Cristian Puig and Vicente Griego walk between musical worlds to bring audiences original compositions and new arrangements of familiar standards backed up by accomplished percussionist Emrah Kotan on cajón and dancer Julie Moon.
Wednesday, Dec. 7
Two sets starting at 7:30 p.m.
Cristian Puig — guitar and vocals
Vicente Griego — vocals
Emrah Kotan — percussion
Julie Moon — dance
And more
FLAMENCO MUSIC CLASSES
Flamenco singer Vicente Griego teaches lyrics to students of Flamenco singing, dance, and guitar in classes that bring out the interactive elements of Flamenco. Classes are facilitated by Julie Baggenstoss, Flamenco dancer and teacher specializing in Flamenco cuadro instruction.
Two class series
Dec. 5 & 6
7:30 – 9:30 PM
Palos: bulerías and tangos
Tuition: $30/single class and $50/2-class series
Class size limited to 10 participants
Location: TBA, Decatur area
Live guitar accompaniment
Private and semi-private classes also available.
FLAMENCO DANCE CLASSES
Dancing to celebrate
ADULTS of all ages dance on Tuesday evenings through Dec. 13
7:00 – 7:45 PM Footwork
7:45 – 8:30 PM Upper body and combinations
Decatur Recreation Center, downtown Decatur
KIDS CLASSES Meet on Thursday afternoons on Sept. 15 – Dec. 15.
4:00- – 4:45 PM Ages 4-6
5:00 – 6:00 PM Ages 7+
Private studio in Decatur. Inquire for address.
---
ABOUT THE ARTISTS
Cristian Puig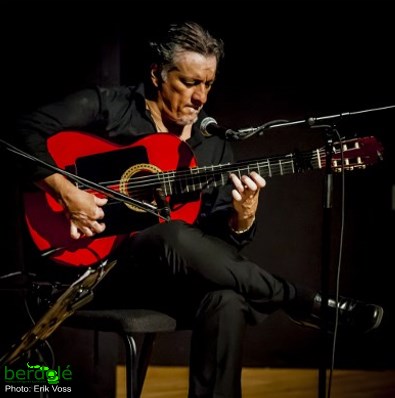 Cristian Puig works nationwide as a Flamenco guitarist and is known to Atlanta audiences for his tablao and theater performances, as well as his role of "Joaquin" in the Alliance Theatre's production of "Zorro". Besides live performance, he has worked in films, such as A Late Quartet, for which he composed flamenco music for the soundtrack. Born in Buenos Aires, Argentina, Cristian Puig is the son of Flamenco singer Gloria Monreal and Flamenco guitarist Pablo Puig. As a teenager, Cristian began his studies in classical guitar at the conservatory of Manuel de Falla as well as Flamenco guitar with his father. Soon he took classes in Flamenco guitar with Quique de Cordoba and furthered his studies in jazz, bossa nova and contemporary music. In 1990 he formed and toured South America with his group Rabat, fusing jazz, bossa nova and Flamenco. Cristian released the CD "Entre Cuerdas" featuring Flamenco-jazz fusion and has just released a new CD entitled Inflam project, which crosses Indian and Flamenco styles.
Vicente Griego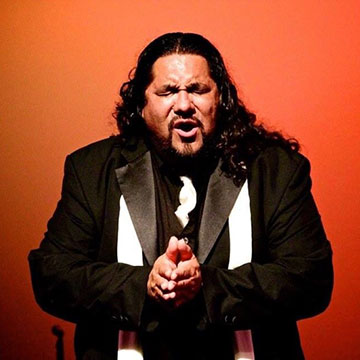 From Dixon/Embudo, NM, Vicente has devoted his life to the study of Cante Flamenco, the art of flamenco singing. In 1992, Vicente began touring the US, Canada, and Latin America with the Jose Greco II Flamenco Dance Company, where he was mentored by Caño Roto singer, Alfonso Gabarri,"El Veneno" of Madrid, Spain. He sings for Yjastros, the American Flamenco Repertoire Company out of AlbuRquerque and tours nationally and internationally year round. Vicente Griego is currently presenting the musical group ReVoZo.
Emrah Kotan, percussion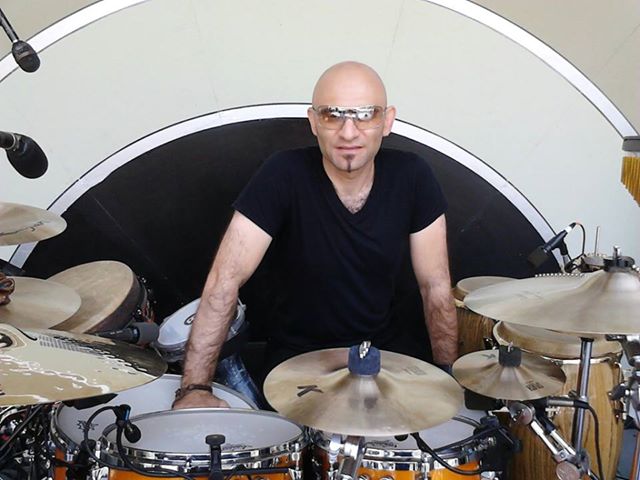 Emrah Kotan is a classically trained percussionist who came to the United States from his native Turkey and received a Master's degree in Jazz Studies from Georgia State University. His debut album, The New Anatolian Experience, is a collection of original compositions and arrangements that fuse world music and jazz, creating stylistically sophisticated vibes and a genuine model of personal artistic expression.
After playing some of the most renowned venues in the world such as the Istanbul Jazz Festival, Playboy Jazz Festival and The Blue Note in New York, Emrah is one of the most sought after musicians in the Atlanta music scene. His unique musical ability transcends many genres and cultures. He is involved in various musical projects, including his own, and is the drummer/percussionist for Grammy award winning artist, India.Arie.
Aside from performing, Emrah is an enthusiastic music educator who has conducted master classes and has taught many students over the years, some of which who have been awarded music scholarships by the colleges of their choice. Emrah teaches students of all ages privately and is the Director of the Jazz and World Percussion Ensembles at Agnes Scott College. He lives in Atlanta, GA.
Erica Poole, dance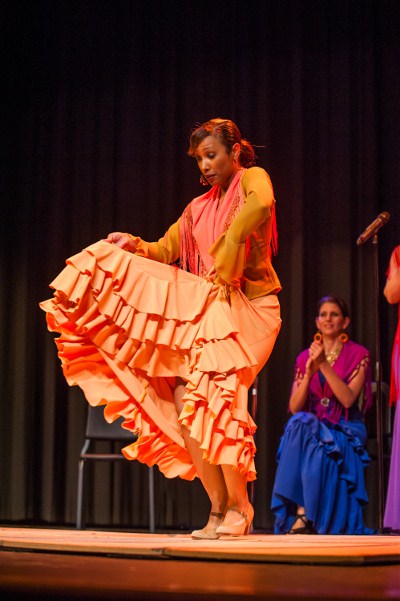 Erica Poole "La Eritaña" is a Flamenco dancer enamored of the deeply emotive, fiercely strong and openly passionate characteristics of performers in the art form. She strives in her practice of Flamenco to discover and to develop her own personalized style. She has had the privilege of studying Flamenco through the years with some of the most important artists of our time in Spain and the United States of America, including workshops, private lessons, and master classes with the following artists have shaped La Meira, Antonio Vargas, Torombo, Laskshmi Basile, Manuel Liñan, Antonio Granjero, Antonio Hidalgo, Soledad Barrio, El Oruco, Javier Heredia, Cihtli Ocampo, Ethan Margolis, Angelita Vargas, Marija Temo, Miguel Vargas, Sol La Argentinita, Cristian Puig, and Juan Paredes.
Luciana Araujo, dance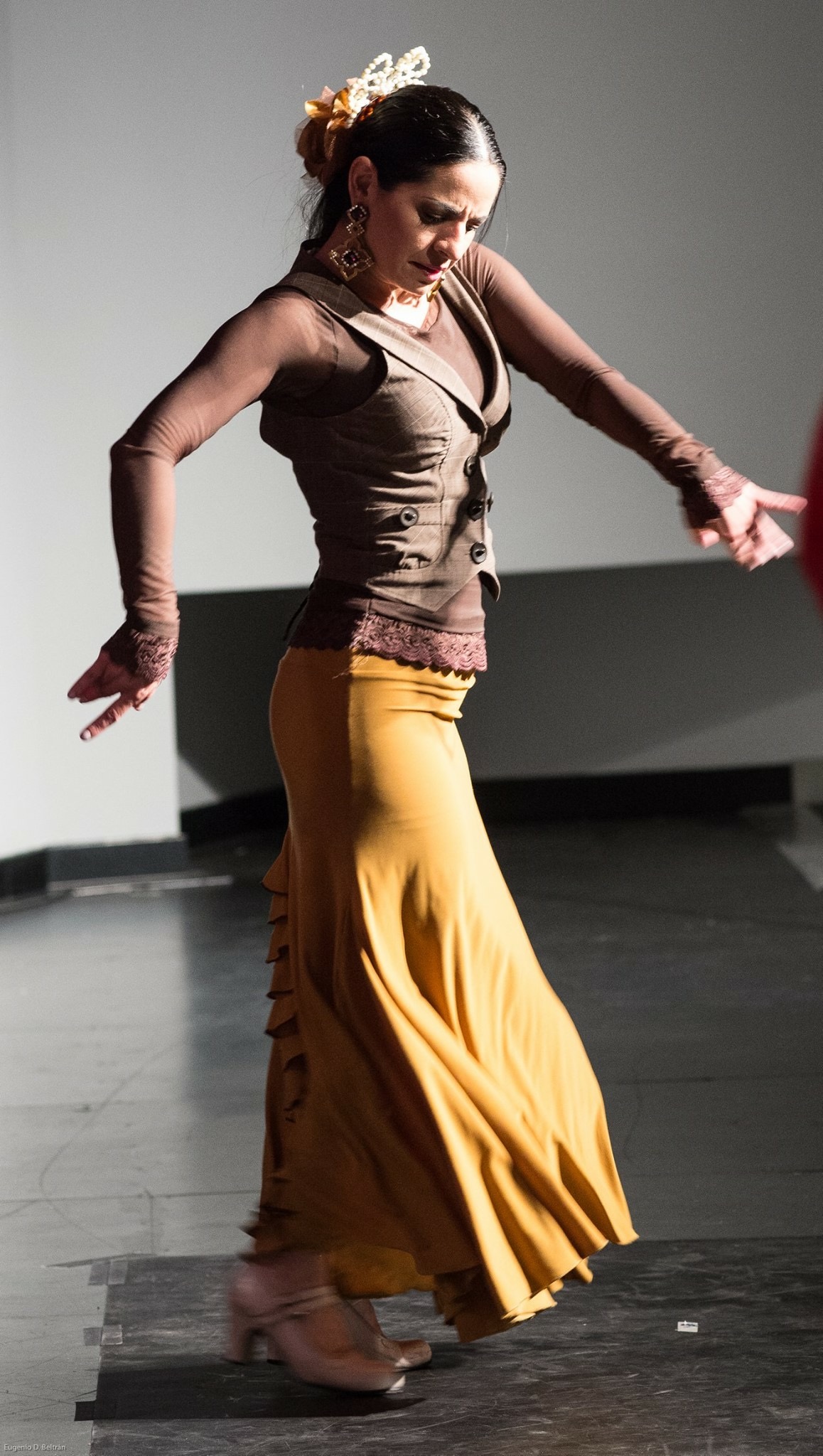 Luciana was born and raised in Salta,Argentina.She began learning Flamenco at the age of 8 with Virgina Miller at "Estudio Liliana Rinaldi." She quickly developed a passion for dance, which led her to other disciplines such as ballet, Argentinian folk, and jazz. At the age of 18, she earned a diploma in Dance Instruction, specializing in Flamenco. She also studied law as a full-time student at the Universidad Catolica de Salta. In 2002, she was awarded a scholarship to participate in the Summer Dance at Point Park College in Pittsburgh, PA, where she further refined her dance skills in jazz. She moved to Atlanta with her family in 2008 and started dancing with Caló Gitano in February 2013.
Julie Moon, dance
Julie "Moon" Galle Baggenstoss has performed and choreographed Flamenco dance for the Atlanta Opera, Georgia State University's School of Music, The Latin American Association, Coves Darden P.R.E., and at universities and museums from the Southeast to the Midwest. She is a member of the faculty of Emory University's Dance Program, where she teaches Flamenco as part of the university curriculum. Julie is a former instructor of the Atlanta Ballet, and teaches for organizations such as the American Association of Teachers of Spanish and Portuguese, the Foreign Language Association of Georgia, and Georgia Public Libraries. She currently tours her original shows for kids "Ferdinand por farruca" and "That's Apoyo", and performs in "Olé flamenco", presented by Young Audiences Woodruff Arts Center.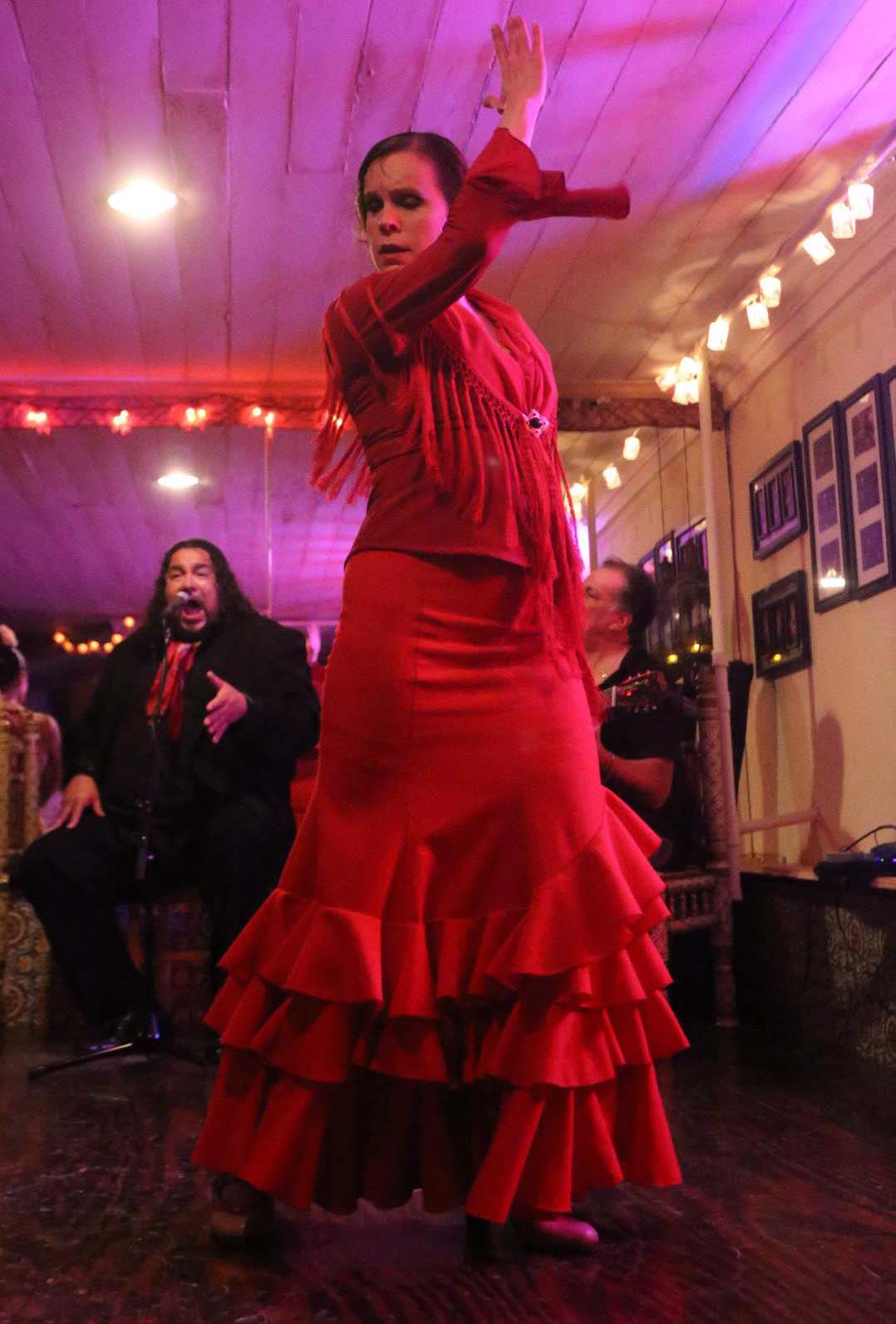 Julie's dance style reflects continuing education and years of classes with Spanish dance teachers, including Angelita Vargas, Juan del Gastor, Manuela Reyes, Pilar Ortega, Manuel Liñán, and Juan Paredes. Her work is guided by the far-reaching input of Flamenco artists La Meira and Antonio Granjero. Off stage, Julie produces Flamenco performances and educational seminars involving Spanish Flamenco artists in residence in the United States of America. She lectures on the history, evolution, and cultural significance of Flamenco and its artists. Julie is the co-founder of jaleolé, a grass-roots marketing organization that shaped Atlanta's Flamenco landscape for a decade. Growing awareness about Flamenco – its origin and evolution, its many and varied interpretations, and the art form's place in American culture – is part of the work taking place in Julie's projects, including Berdolé and A Través, Inc. 501c3.