Flamenco in Atlanta – Fall 2017
Join us for classes or a show
FLAMENCO TABLAO AT RED LIGHT CAFÉ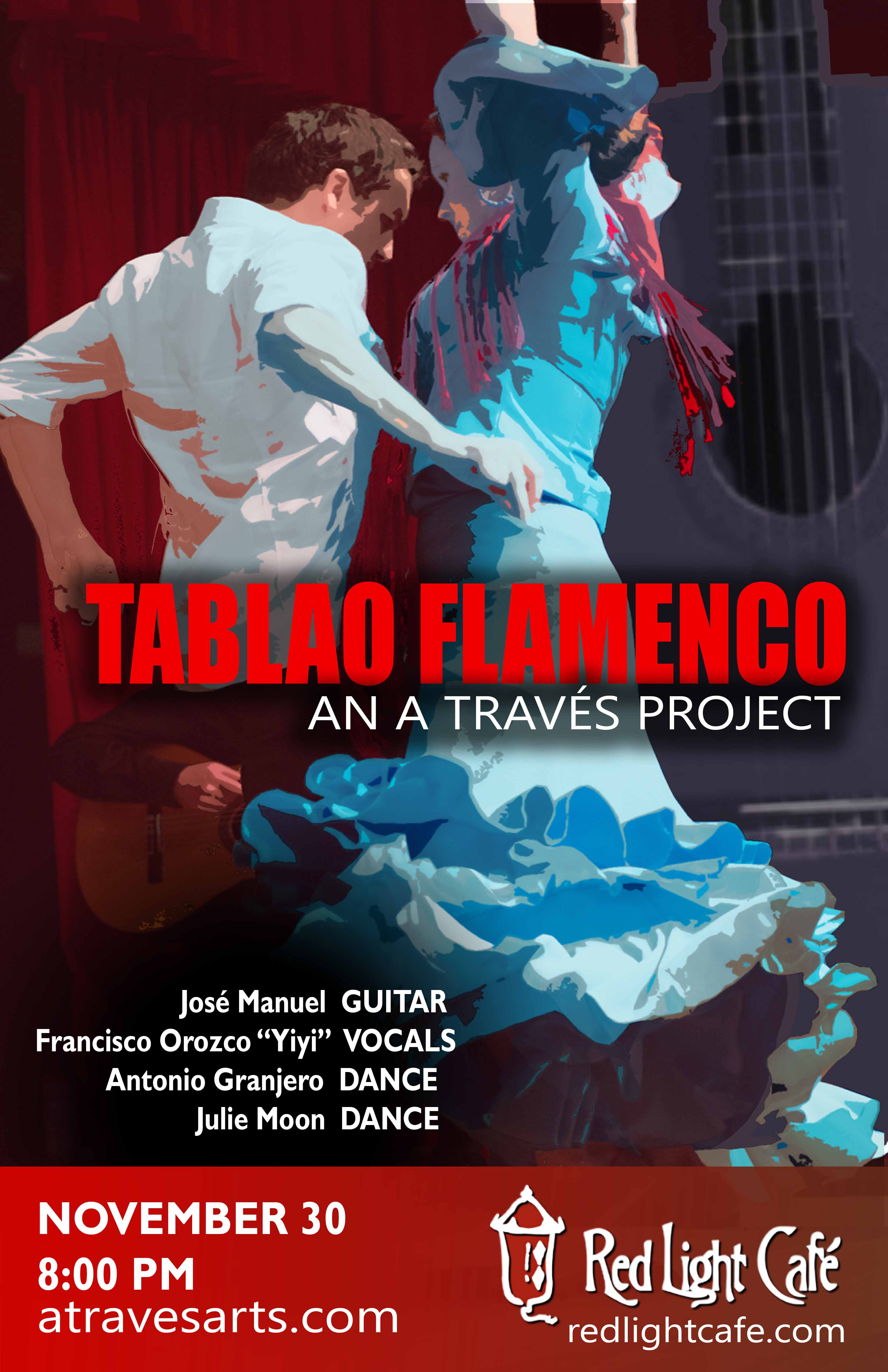 We welcome back award-winning dancer Antonio Granjero of Jerez de la Frontera, Spain, and singer Francisco Orozco "Yiyi".  They will perform with guitarist José Manuel Alconchel Ortega from Jerez de la Frontera, Spain. Don't miss these powerhouses in town for one night only.
This performance is part of an annual residency by A Través Arts. During the residency, kids at E. Rivers Elementary School will learn from these artists in classes presented in Spanish, with performance opportunities that will bring the kids to audiences across Atlanta. Artists are also teaching classes for adults during the residency. More about A Través >>
Thursday evening, November 30
Red Light Café is located on Amsterdam Ave., Midtown
7:00 PM Doors
8:00 PM Show
On stage:
Guitar: José Manuel Alconchel Ortega
Cante: Francisco Orozco "Yiyi"
Dance: Antonio Granjero and Julie Moon
FLAMENCO DANCE CLASSES WITH ANTONIO GRANJERO AND LAKSHMI BASILE
Mask Center, Little Five Points
Nov. 27 – Dec. 8, 2017
Details at the A Través website >>
FLAMENCO DANCE CLASSES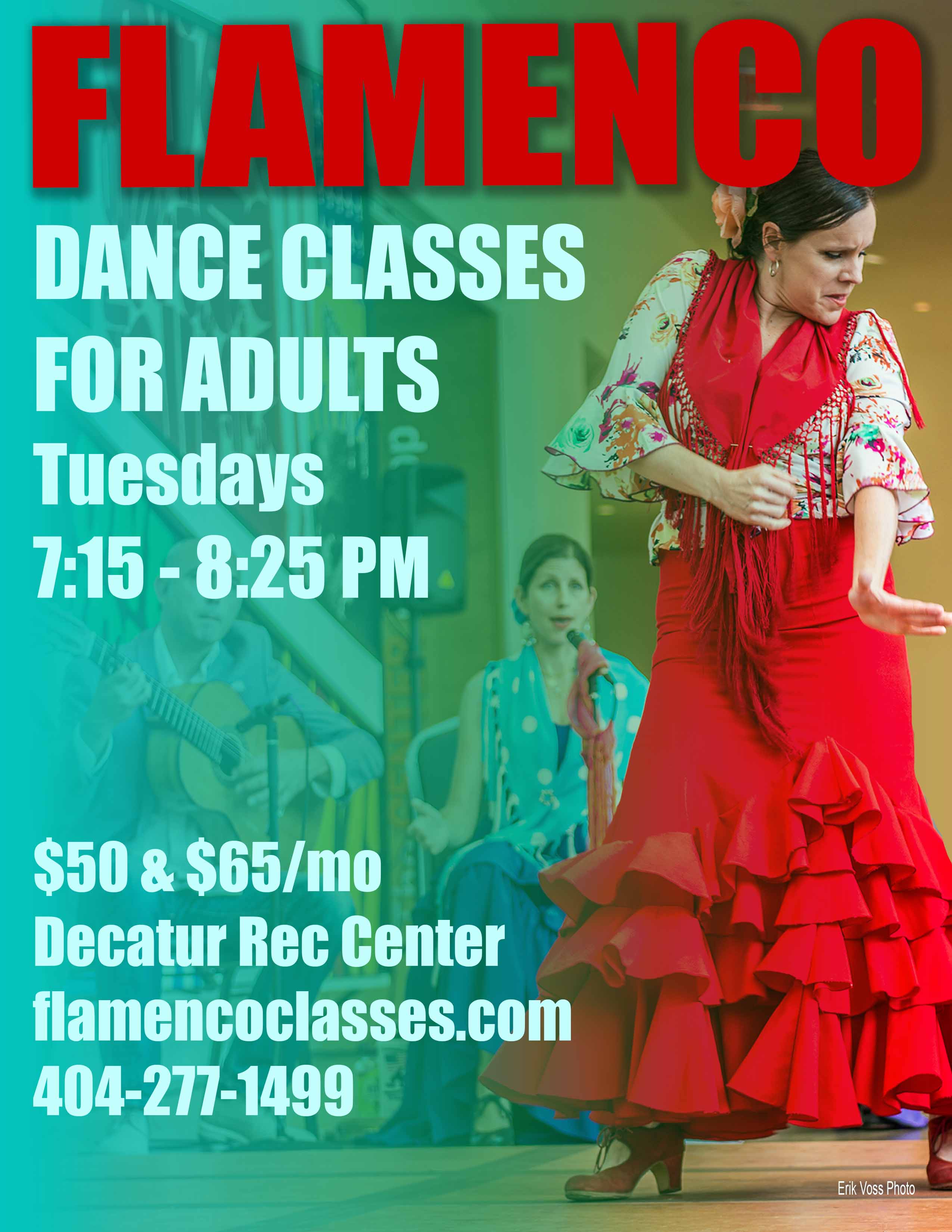 Classes for kids age 6-12 are on Thursdays at 5-6 PM.  No experience necessary.  Tuition: $45/month.  Classes meet weekly Aug. 24 – Dec. 12 in a private studio in Decatur.  Please inquire for address.  Class limited to 5 students.
Classes for adults are on Tuesdays at 7:15 – 8:25 PM at the Decatur Rec Center at 231 Sycamore St., Decatur GA 30030. Tuition is $50/month for Decatur City residents and $65/month for non-residents. No experience is necessary.  This class is geared toward dancers who want to dance without the worry of learning long choreographies or highly technical footwork.  We spend time listening to music and exploring the relationship between the body, rhythm, melody, and space.   Class limited to 10 participants. Classes meet weekly Aug. 22 – Nov. 28.
EARLIER THIS YEAR
Thanks to the fans and students who attended our Flamenco events earlier this year!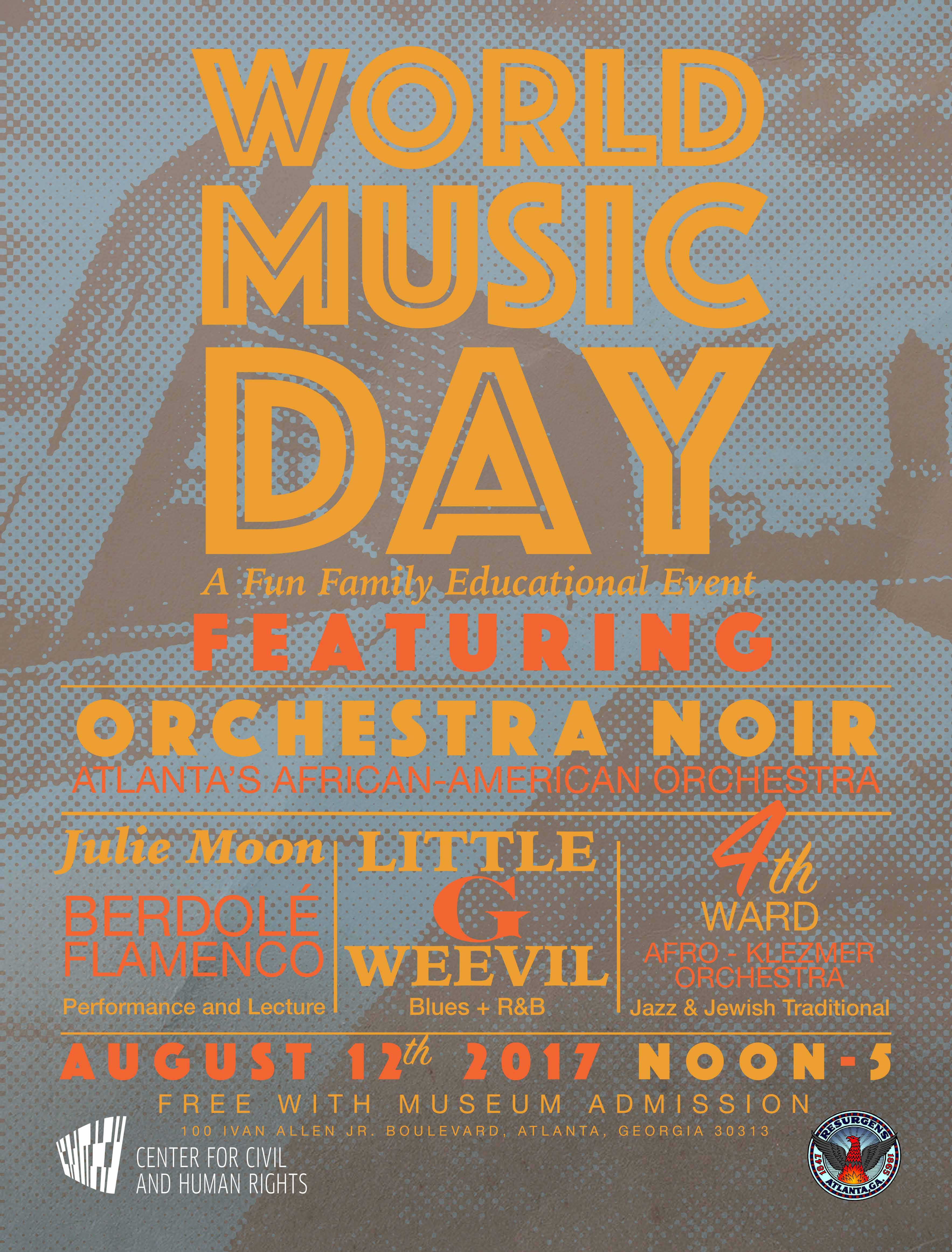 FLAMENCO AT WORLD MUSIC DAY
Saturday, August 12
1:00 PM
Doble T, guitar
Carlota de Luna Garza, dance and vocals
Julie Moon, dance
More artists announced soon!
World Music Day happens at 12:00 – 5:00 p.m., and the Flamenco performance is at 1:00 – 1:30 p.m.
The Center for Civil and Human Rights is presenting this event.  They are located at 100 Ivan Allen Jr. Blvd., in downtown Atlanta.  Venue details, including important parking and access info >> 
The concerts during this event are free with museum admission.  Tickets >>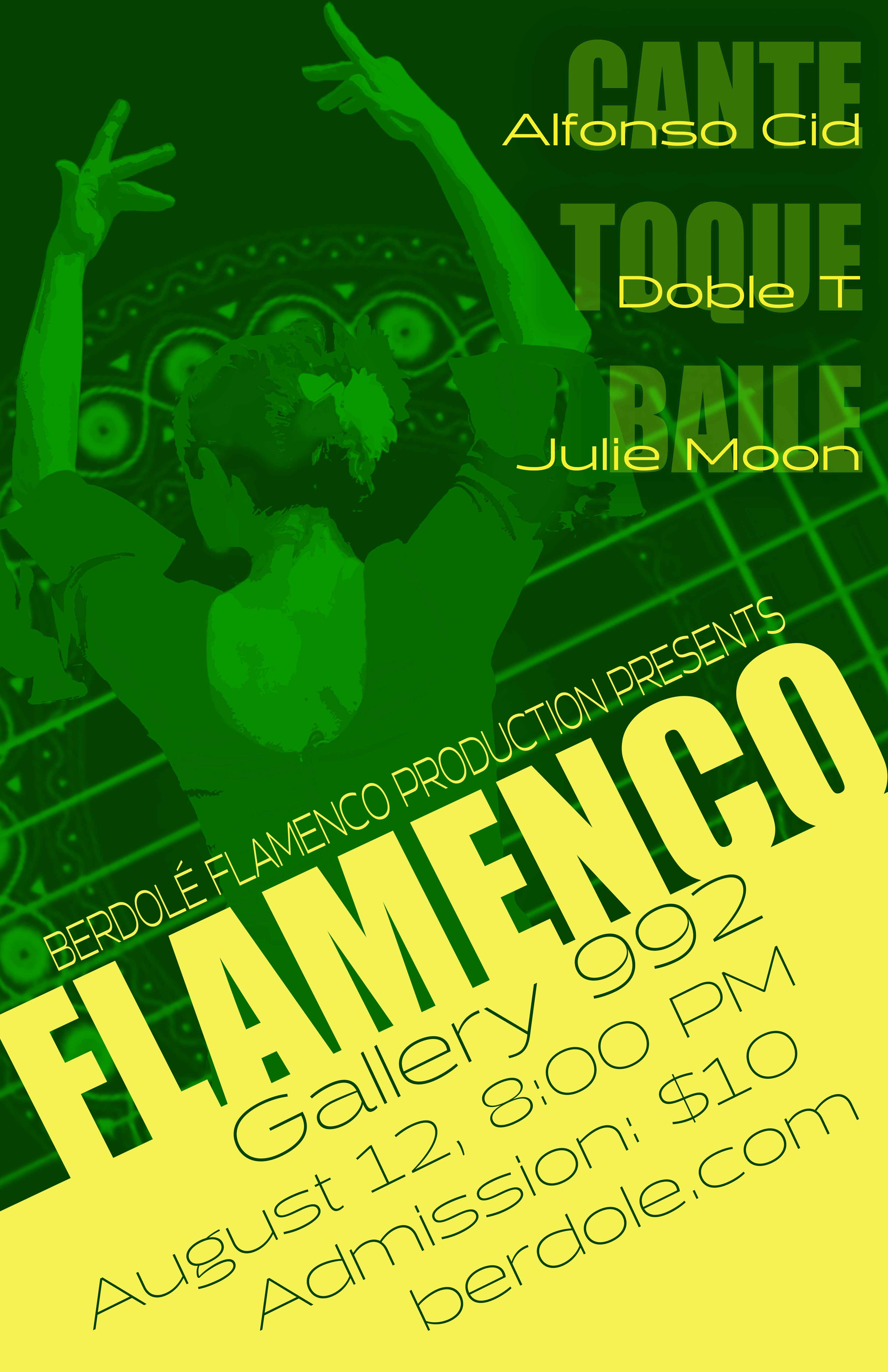 FLAMENCO AT THE WEST END
Saturday, August 12
Live Flamenco Tablao show featuring Seville singer Alfonso Cid
Gallery 992
992 Ralph David Abernathy Blvd, Atlanta GA 30310
8:00 PM
On stage:
Alfonso Cid, vocals
Doble T, guitar
Julie Moon, dance
$10 admission cash at door or advance sales>>
Good to know about this venue! Kebbi Williams receives accolades for his work to advance high art in the West End >>
FLAMENCO HOUSE CONCERT
Experience Flamenco in its most famed setting: the living room, where artists are at arm's reach. This show features the vocals of Seville singer Alfonso Cid.
Sunday evening, August 13
Doors: 6:00 PM
Show: 7:00 PM
On stage:
Alfonso Cid, vocals
Doble T, guitar
Julie Moon, dance
This performance is presented by Steve's Live Music House Concert Series in Sandy Springs. A $20 donation is requested. It includes food/snacks drinks/beer/wine.
BULERÍAS FESTERAS USA 2017 TOUR
Thank you participants of this year's tour with Seville maestro Juan Paredes! To the local presenters, Berdolé appreciates your role in our shared vision of learning and enjoying Flamenco based on the thing that unifies us all: great soniquete. To the movers, musicians, and aficionados, Berdolé is grateful for your willingness to explore this exciting and unique methodology in Flamenco education. Until next time, enjoy the great rhythm and keep moving! See you in 2018!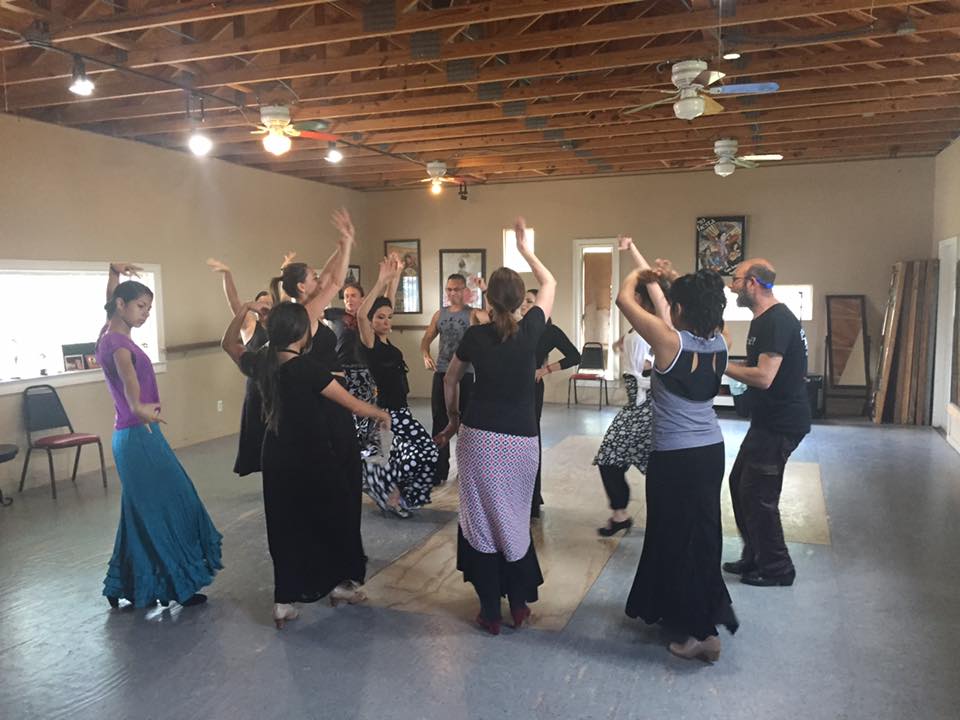 Photo by Ana M. Barceló Suria
FREE FLAMENCO DANCE CLASS
Thank you to the Decatur Arts Festival for presenting Flamenco in 2017!
Saturday, May 27, 2:30-3:30 p.m.
Building from a rhythmic base, students engage in age-appropriate (including adult) dance and games in which they interact through percussive footwork, rhythmic hand clapping, and cheers of "Olé!" The class is taught in a circle to facilitate the communal nature of Flamenco and its communicative functions. All movement and rhythm is taught at the beginner level.
Managed by Berdolé Flamenco