September in Atlanta
Two great shows + Flamenco dance classes
PERFORMANCE: RED LIGHT CAFÉ
Flamenco returns to Red Light Café in the spirit of the tablaos of Spain, where improvisation is at the core of performance. Guitar, song, and dance blend in percussive dynamics that express emotion and passion.
Tues., Sept. 20
7:30 PM show time
Featuring:
Marija Temo — guitar and vocals
Lisa Vash Herman— vocals
Emrah Kotan — percussion
Ania La Candela — dance
Erica Poole, "La Eritaña" — dance
Julie Moon — dance
$12 Adv – $15 Door
Doors @ 6:30 PM
PERFORMANCE: THE VELVET NOTE
Wednesday, Sept. 21
Two sets starting at 7:30 p.m.
Marija Temo — guitar and vocals
Lisa Vash Herman— vocals
Emrah Kotan — percussion
Ali Barr —  trumpet ad percussion
Julie Moon — dance
FLAMENCO DANCE CLASSES
Dancing to celebrate
ADULTS of all ages dance on Thursday evenings on Sept. 15 – Dec. 15.
7:15 – 8:00 PM Footwork
8:00 – 9:00 PM Upper body and choreography
Decatur Recreation Center, downtown Decatur
KIDS CLASSES Meet on Thursday afternoons on Sept. 15 – Dec. 15.
4:00- – 4:45 PM Ages 4-6
5:00 – 6:00 PM Ages 7+
Private studio in Decatur. Inquire for address.
WORKSHOP & PRIVATE LESSONS WITH MARIJA TEMO
Workshop: "Flamenco Sin Miedo" ©
Flamenco Communication with Marija Temo
This class will cover the palo of tangos
Details about class structure: www.marijatemo.com/flamenco-communication-lessons/
Sept. 17 & 18 (Sat & Sun)
4:00 – 6:00 PM daily
Stay to socialize at a casual party after class on Saturday!!
Location: Private studio in Buckhead (address provided upon registration)
Tuition: $60 for one day or $100 for both days
Day 1: "The Structure Will Save You"©
Students will learn the structure of Tangos letras—length of compases, tonos, accents, rhythmic expression—creating an organizational framework via which the tangos palo (or any palo) can be analyzed and more easily understood, facilitating communication with other artists in the guitar/cante/baile triad.
Day 2: Dual Tracks: "Get in Gear/Dig Deeper"
Beginning students solidify knowledge of tangos structure, intermediate/advanced students "dig deeper" into remates, contestaciones, salidas, footwork, organization, musical process and accenting.
Students will have a chance to work with each other live in the class or attend as an observer only to glean a better understanding of how the parts (singing, dance and guitar) make a whole in flamenco.
ALL Guitarists, singers and dancers are encouraged to bring their remates, respiros, marking steps, salidas, estribillos and escobillas to class to deepen their understanding of the Tangos structure.
Participants should bring paper and pens as well their dance shoes, guitars, and capos. Audio recording allowed. Any video recording or internet posting must have Artist's approval.
Private Lessons and Coaching:
Days/Times Available:
Sept. 17 (Sat) 12:00 noon to 4:00pm
Sept. 18 (Sun) 9:30am to 4:00pm; 6:00pm to 8:00pm
Sept. 19 (Mon) 4:00pm to 8:00pm (*note— daytime slots may also be available Monday; some availability
Tues the 20th & Weds 21st)
Location: Private studio in Buckhead or student-organized venue
Tuition
Private class for one person: $70 per hour
Semi-private classes: $60 per hour/each person
Group Coaching (3 or 4 students): $50 per hour/each person
Marija Temo will offer private lessons in guitar technique, cante, and dance accompaniment as well as coach your choreography in how to work with cante and guitar communication and interpretation.
Receive feedback on how to interact and interpret your choreography, cante, and guitar skills when working with dancers and musicians.
Reserve your workshop spots/lesson times via email at info@berdole.com.
---
ABOUT THE ARTISTS
Marija Temo, guitar and vocals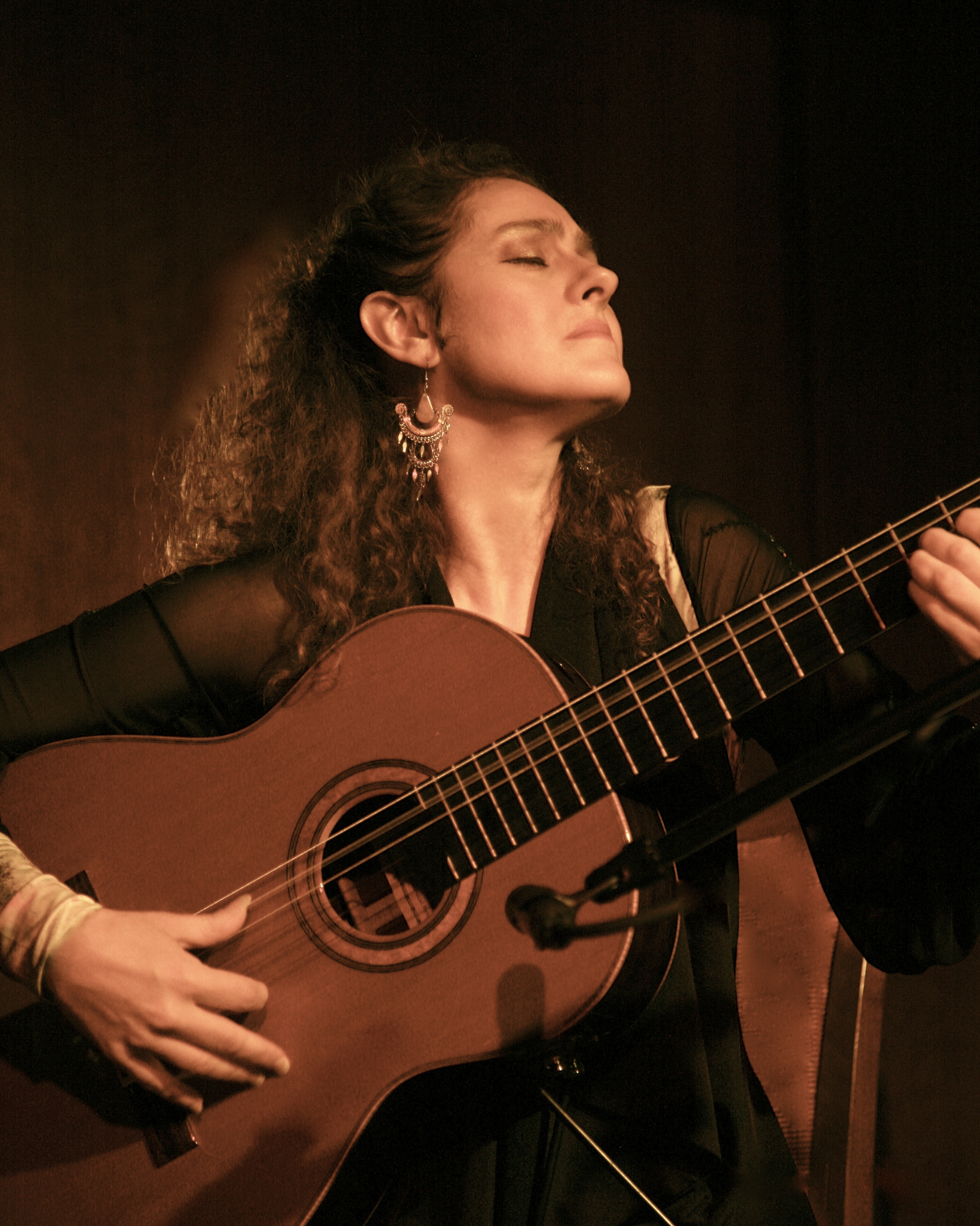 Marija Temo, described as a "triple threat", is widely recognized as a virtuoso classical/Flamenco guitarist, Flamenco vocalist, conductor, and former dancer. She has come into her own, combining her Flamenco and classical abilities, and on many occasions, artfully combines all of her unique talents in performance. She actively performs as a soloist with symphony orchestras, in guitar concert series and festivals, as a Flamenco singer/guitar accompanist, and has been featured utilizing her talents in unique types of performance. She has performed for many dignitaries and with highly acclaimed artists, and has also received several awards. In addition to her versatile performance career, she is known for her teaching methods, educational programs, and workshops. Marija Temo plays a "Marija Temo" Model Flamenco/classical hybridTM, which she designed with luthier Tom Rodriguez. Ms. Temo has also received the endorsement of D'Addario Strings. She was featured in Classical Guitar Magazine's April 2012 issue.
Ms. Temo currently teaches at the Wisconsin Conservatory of Music, Milwaukee, WI, and is a former faculty member of
Lisa Vash Herman, vocals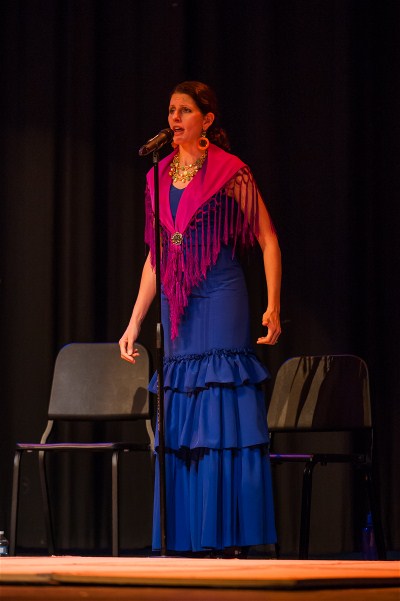 Lisa Vash Herman began studying Flamenco dance in 2001 with Ulrika Frank, and has also studied with Marta del Sid and Julie Galle Baggenstoss. Additional artists with whom Lisa has studied baile include Antonio Hidalgo, Miguel Vargas, Antonio Vargas, Teo Morca, La Meira, Manolo Punto and Antonio Granjero; she has supplemented her Flamenco study with classes in rhythm from Jerry Fields. From 2003-2008, Lisa joined Perla Flamenca dance company under the tutelage of Ulrika Frank and then Marta del Sid.
In 2010, Lisa began studying Flamenco cante with Marija Temo, and has focused almost exclusively on cante since November of 2011. Lisa has studied cante with Juan del Gastor, Cristian Puig, Javier Heredia, Ethan Margolis, Roberto Lorente and Juan Debel, and has accompanied Flamenco dancers in Atlanta in performances at various venues since May of 2011. the Preparatory of the Peabody Institute, Johns Hopkins University, where she founded the Flamenco Guitar Program. She received her Masters degree from the Peabody Conservatory of Music, studying under Manuel Barrueco, and her Bachelors degree from the Baldwin-Wallace College Conservatory of Music, studying under Loris Chobanian. Ms Temo has taken master classes from many great Flamenco artists, such as Paco Jarana, Paco del Gastor, El Viejin, and Pedro Cortes, but intensive studies with teachers that have had significant influence include: Marta del Cid, Bruce Catalano, Sophie Ginn-Paster, Teo Morca, and Manolo Leiva.
Emrah Kotan, percussion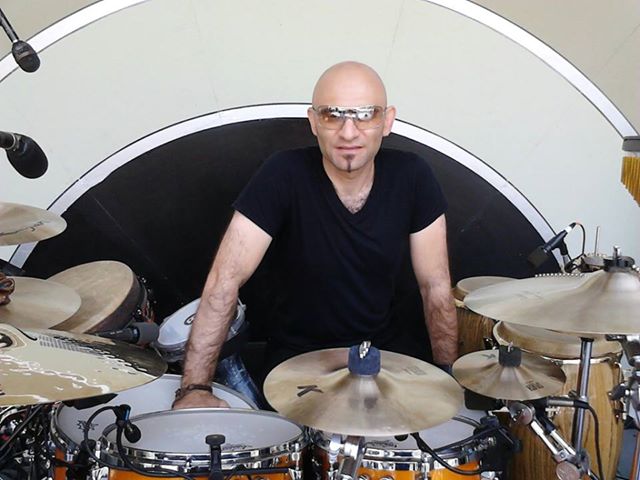 Emrah Kotan is a classically trained percussionist who came to the United States from his native Turkey and received a Master's degree in Jazz Studies from Georgia State University. His debut album, The New Anatolian Experience, is a collection of original compositions and arrangements that fuse world music and jazz, creating stylistically sophisticated vibes and a genuine model of personal artistic expression.
After playing some of the most renowned venues in the world such as the Istanbul Jazz Festival, Playboy Jazz Festival and The Blue Note in New York, Emrah is one of the most sought after musicians in the Atlanta music scene. His unique musical ability transcends many genres and cultures. He is involved in various musical projects, including his own, and is the drummer/percussionist for Grammy award winning artist, India.Arie.
Aside from performing, Emrah is an enthusiastic music educator who has conducted master classes and has taught many students over the years, some of which who have been awarded music scholarships by the colleges of their choice. Emrah teaches students of all ages privately and is the Director of the Jazz and World Percussion Ensembles at Agnes Scott College. He lives in Atlanta, GA.
Ania la Candela, dance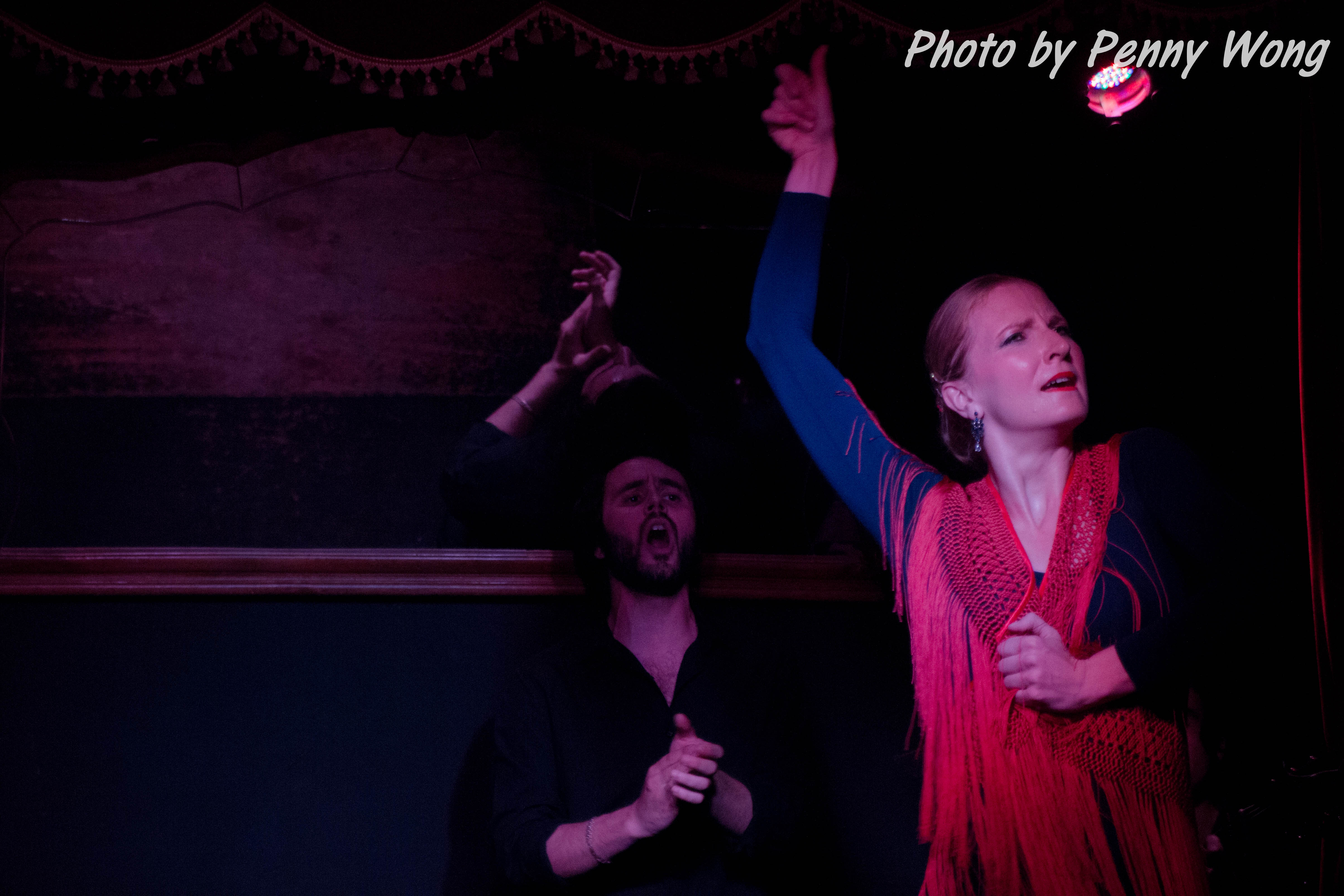 Ania la Candela is an Atlanta based Flamenco dancer. She has performed across the Southeastern U.S., as well as Switzerland, Poland and worked in various Flamenco venues in Spain, including Teatro CasaLa, Teatro de Aracena, Peña Flamenca La Fragua, as well as tablaos Sala Garufa, Flamenqería, Cafe del Arte, and Caja Negra. Ania was also a featured dancer in the music video "Kiss the Night" by Summer Azul.
Ania dedicated several years to study flamenco in Seville with Spain's top artists, and she often goes back to Seville to develop further as a dancer. Among the dancers that mostly influenced her style are Juana Amaya, Nazaret Reyes, La Choni and Milagros Menjibar. While in Atlanta, Ania teaches flamenco from her home studio as well as at Global Dance Studio.
Erica Poole, "La Eritaña", dance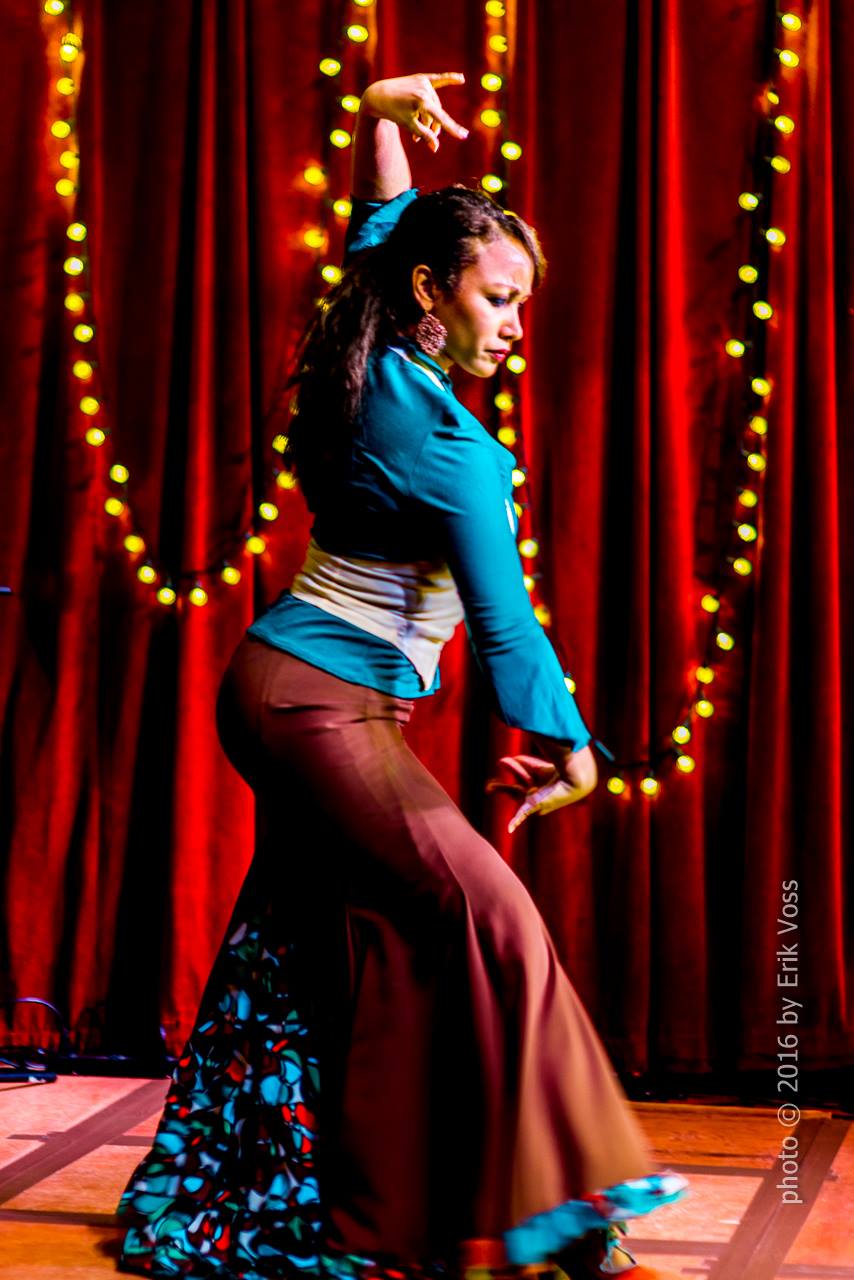 Erica Poole "La Eritaña" is a Flamenco dancer enamored of the deeply emotive, fiercely strong and openly passionate characteristics of performers in the art form. She strives in her practice of Flamenco to discover and to develop her own personalized style. She has had the privilege of studying Flamenco through the years with some of the most important artists of our time in Spain and the United States of America, includingworkshops, private lessons, and master classes with the following artists have shaped La Meira, Antonio Vargas, Torombo, Laskshmi Basile, Manuel Liñan, Antonio Granjero, Antonio Hidalgo, Soledad Barrio, El Oruco, Javier Heredia, Cihtli Ocampo, Ethan Margolis, Angelita Vargas, Marija Temo, Miguel Vargas, Sol La Argentinita, Cristian Puig, and Juan Paredes.
Julie Moon, dance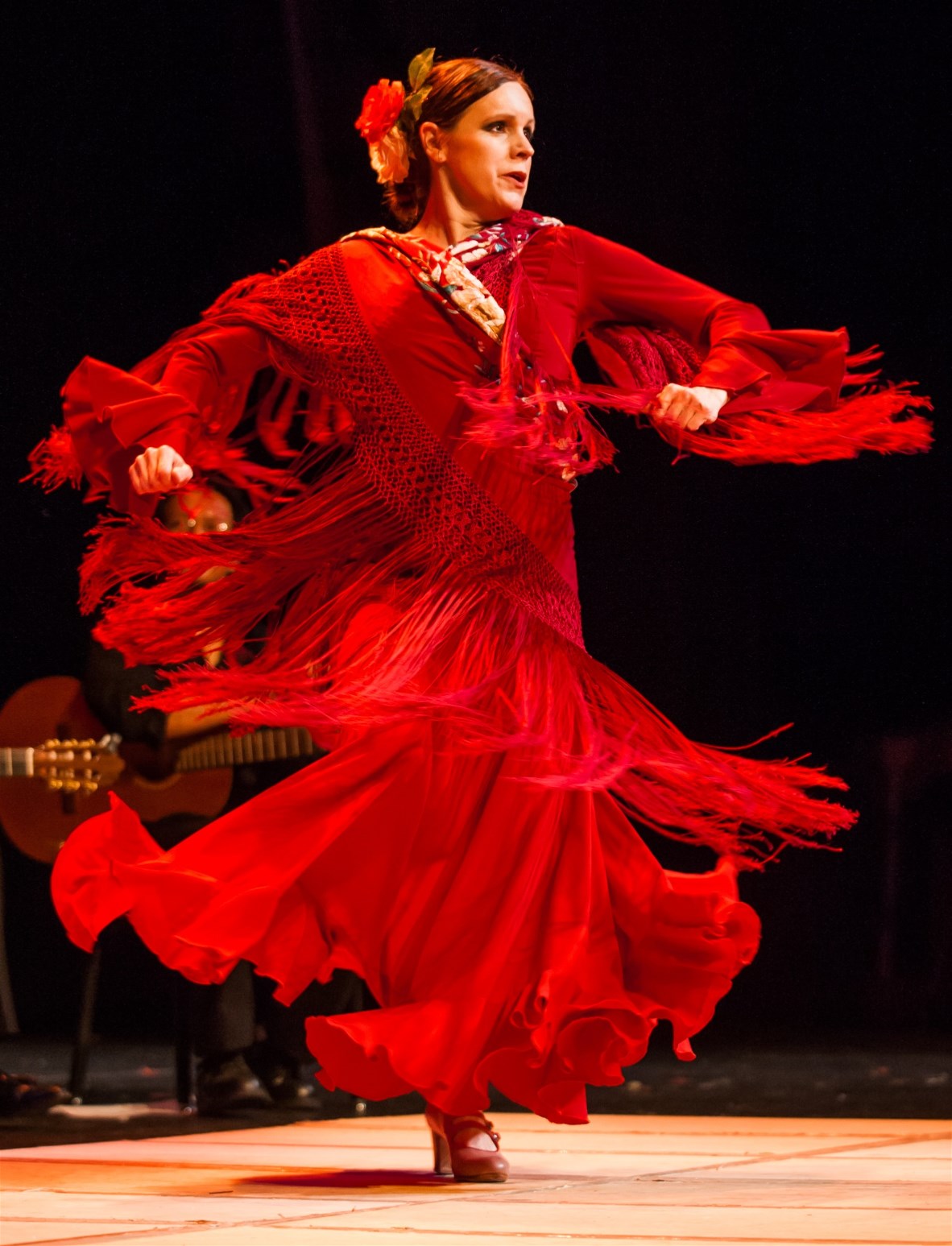 Julie "Moon" Galle Baggenstoss has performed and choreographed Flamenco dance for the Atlanta Opera, Georgia State University's School of Music, The Latin American Association, Coves Darden P.R.E., and at universities and museums from the Southeast to the Midwest. She is a member of the faculty of Emory University's Dance Program, where she teaches Flamenco as part of the university curriculum. Julie is a former instructor of the Atlanta Ballet, and teaches for organizations such as the American Association of Teachers of Spanish and Portuguese, the Foreign Language Association of Georgia, and Georgia Public Libraries. She currently tours her original shows for kids "Ferdinand por farruca" and "That's Apoyo", and performs in "Olé flamenco", presented by Young Audiences Woodruff Arts Center.
Julie's dance style reflects continuing education and years of classes with Spanish dance teachers, including Angelita Vargas, Juan del Gastor, Manuela Reyes, Pilar Ortega, Manuel Liñán, and Juan Paredes. Her work is guided by the far-reaching input of Flamenco artists La Meira and Antonio Granjero. Off stage, Julie produces Flamenco performances and educational seminars involving Spanish Flamenco artists in residence in the United States of America. She lectures on the history, evolution, and cultural significance of Flamenco and its artists. Julie is the co-founder of jaleolé, a grass-roots marketing organization that shaped Atlanta's Flamenco landscape for a decade. Growing awareness about Flamenco – its origin and evolution, its many and varied interpretations, and the art form's place in American culture – is part of the work taking place in Julie's projects, including Berdolé and A Través, Inc. 501c3.